Hurricane Season is Here: Have You Talked to Your Vendors?
Do you have a hurricane plan in place to help keep your home and loved ones safe?
Download our Hurricane Guide today!
You probably don't think about your vendors on a regular basis. As a board member, you see the invoices and authorize the payments, but they aren't top of mind unless there's a problem with the work – or an emergency. As a homeowner, you may see them doing work in your high-rise or community, but don't generally interact with them. But your vendors are a critical part of your community's emergency planning for any kind of hurricane or tropical storm and even more important when it comes to managing the cleanup and rebuilding.
Before the storm
Work with your vendors ahead of hurricane season to make things easier if a storm does hit. Take a look at your contracts – do they specify anything about emergencies, including hurricanes? Do you know that you can count on your vendors when it matters the most? Does your landscaper prepare for hurricane season with tree trimming and can they cut up downed trees after a storm?

Build great relationships with your vendors on an ongoing basis. Referring them to other business is one way. Your professional property management company can help with that as well: if the company is large enough, they can leverage that size and volume of business to help your community remain a priority during a crisis.

Eric Kohorn is a regional director with FirstService Residential in Jacksonville. After Hurricane Irma caused extensive flooding in the area, he was able to rely on the network already established by FirstService Residential to find the right vendor for a task no one had anticipated. "Hurricane Irma flooded the garage of a downtown high-rise we manage. It flooded the generator's fuel tank and that caused 500 gallons of fuel to mix into all that water," he explains. "We needed an environmental remediation company and that isn't the type of company you keep on a contract because the need is so rare. But we contacted the FirstService Residential Destin office. They polled the rest of the state and found the right firm in Panama City, which had an office in Jacksonville. Two days after the storm, they had the garage 80% remediated, including removing 30,000 gallons of water from the garage."

Kohorn recommends that communities do their best to anticipate the unforeseeable. "I worked with high-rises on the Alabama coast when the BP oil spill happened. A tropical storm came through and blew oil over the dunes and onto our parking lots. No one could have anticipated that. Property managers and boards need to work together to be creative in imagining the worst-case scenarios and researching the appropriate companies that can help ahead of time." He says that you can get contracts with some mold and remediation companies before storm season starts. There's no payment at the time, but it gets your community on the first response list if the need arises. Again, your property management company should have a network you can tap into to set that up.

When creating your emergency plan, talk to your contracted vendors. Ask about their hurricane emergency plans. If a storm is bad enough, their good intentions or contract may not matter. Is your vendor located in a mandatory evacuation zone? If so, find a plan B for that need and keep that information in your vendor list.
After the storm
The first and most important thing to do after any major weather event is make sure everyone in your community is safe. Once that's done, it's time to assess the damage and get started on cleanup, repairs and rebuilding. Prioritizing what needs to be done can seem overwhelming. Fortunately, the right professional property management company can be a tremendous help with that process, providing an experienced team and best practices to help get your community back on track.

That company should be able to access its extensive network to meet unexpected needs. "South Florida saw gas shortages days before Hurricane Irma hit," explains Stephanie Parker, vice president of operations at FirstService Residential. "But thanks to our partner Lukes' Landscaping, we were able to fuel associate vehicles to get to their communities and even provide fuel for some generators immediately after the storm."

After a storm, vendors will flood into the affected area as soon as possible. But those vendors are not equal, Kohorn warns. In the wake of every major storm, con artists show up to try to take advantage of the crisis. Having a professional management company on your side to vet vendors can protect your community's fiscal health and assets.

As noted earlier, your management company should have existing relationships with a variety of certified and licensed contractors to deal with these matters as quickly and efficiently as possible. If your contracted vendors aren't available, your management company should be able to help you find new ones. Your management team should also collaborate with your maintenance or engineering technicians to assess the damage and request estimates from your vendors, as well as oversee the work.
Vendors include insurance and financial providers.
Dealing with your association's insurance company is a huge part of recovery and often the most daunting to board members. Your property management company can take the lead role, from start to finish, including initial notifications to preparation of records to coordinating with the claims adjustor, facilitating the process so your association gets the best possible settlement as quickly as possible. (Remember, after a disaster, adjustors in your area will have a backlog of work). During this time, your property management company will also compile and review all estimates and complete all the preliminary steps it takes before work can begin at your community. Board members can assist by photographing and documenting damage as they see it, making the process both more accurate and more efficient.

No one wants to go through a major storm, but it's easier with the right property management company on your side. A good management company will be there for your community, consistently communicating with your board and residents, assessing damage and managing cleanup and repairs, connecting you with certified, trusted vendors, and helping make the insurance claims process as painless as possible.

To receive informational articles like this one via email, sign up today!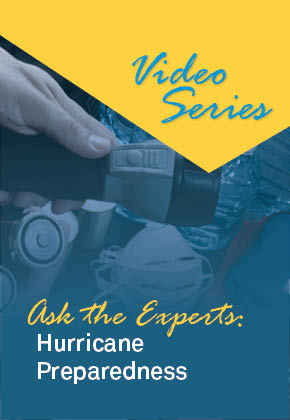 Watch the full video
Is your community association prepared for hurricane season? Access our Hurricane Preparedness video.
Watch now