10 Building Amenities that Will Rock the Roofs of Your High Rise Condos
When it comes to making your high-rise more marketable, start at the top: your rooftop! Under-utilized space can be enhanced to offer new or improved amenities to your residents, increasing property values and improving the lifestyles of everyone in the building.

For older buildings, in particular, adding amenities, or upgrading existing ones, is a terrific way to stay current in a competitive market.

Some of the coolest venues for entertainment and dining in urban centers and downtowns are rooftop spots. By creating a cozy gathering space for residents, you're building a better community and infusing more resort-style living into your building. Follow their lead and create similar sky-high experiences for your own community.

There are lots of great ways to upgrade amenities throughout your building, but let's focus on your rooftop and how you can take it to the next level. Some of these ideas might work for other parts of your building as well.
Pool
Pools are one of the more common ways to make the most of your rooftop in sunny Florida. Luxurious options like saltwater pools or infinity pools can really set your rooftop apart and increase the marketability of your property. Make any pool experience more luxurious by offering towel service and chilled water.
Cabanas
Get creative with artful, comfortable cabanas and lounge chairs to beautify your rooftop while offering cooling shade.
Grilling stations
It's just not summer without a cookout. Unfortunately, high-rise dwellers don't often get the chance to savor the season with some home-cooked barbecue. Be sure to check with all local ordinances and fire codes before going this route.
Fire pit lounges
A fire pit is a great way to lengthen the rooftop lounging season. Nothing's better than a crisp evening under the stars – taking in a dramatic city view through the flickering flames of a fire. Again, be sure to vet any concepts with your local fire marshal before embarking on installing fire pits.
Gardens
Whether it's open rows or an enclosed greenhouse, resident rooftop gardens are a great way to grow fresh food and enjoy the meditative qualities of growing vegetables – right in the heart of the city. Consider a community garden for veggies or perhaps make the space more decorative with local flowers.
Meditation garden
Create an island of tranquility in the heart of the city with a beautiful koi pond, comfortable seating and lush landscaping.
Rooftop dining
Turn your rooftop into a scene all its own with an innovative restaurant or bar concept. If you're lucky to have panoramic views, everything you serve will come with a side of wow.
Fitness center
Enjoy your workout from a different perspective. Whether it's cardio, lifting, yoga or Pilates, a rooftop fitness area elevates any workout beyond the ordinary. Consider including a putting green.
Fun for kids
Creating your own mini-park – complete with playset – on your rooftop provides a fun space for kids and their parents. Cover the surface with shock absorbing matting made from recycled rubber for an eco-friendly safety flooring for little ones to run and play on.
Pet-friendly perks
Your rooftop can go to the dogs (in a good way) by leveraging this space for places to run, walk and play for residents' four-legged friends. A pet spa is also an option for anyone with a posh pooch.

Bonus Tip: Mix it up. For the ultimate rooftop hotspot, consider mixing it up with a combination of any of these concepts.

Before beginning a rooftop makeover, ask residents for their thoughts. Consider distributing a survey in which they can rank ideas by preference, or ask for idea submissions. Getting resident feedback will help your Board make the right choices for your community. Major modifications and capital improvements anywhere in your community may require a vote from the membership of your association, and you should always consult with engineers and both your association's attorney and insurance company before proceeding. Of course, your professional property management company can provide guidance on which amenities will work best for your unique property and community and how to implement these.

For more information on how a quality property management company can partner with you as you upgrade your rooftop and other high-rise amenities, contact FirstService Residential, Florida's leading property management company.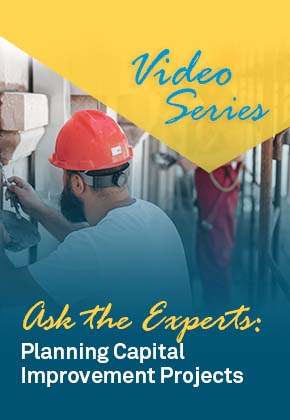 Watch the full video!
When you live in a community association, capital improvement projects are a fact of life, yet many board members struggle with the complexities they present. Watch our video to learn how to kick off your next capital project.
WATCH NOW!