Georgia 9/11 Memorial Stair Climb presented by FirstService Residential honors fallen heroes
Atlanta, GA (August 2, 2023) - FirstService Residential Georgia and Realm Condominium will host the annual
Georgia 9/11 Memorial Stair Climb
, on Saturday, September 9, 2023, to benefit the FDNY Counseling Unit and the National Fallen Firefighters Foundation.
Joining thousands at locations across the country, local supporters will climb 110 flights of stairs, the equivalent of the World Trade Center, on the 22nd anniversary of that tragic day. Registration will open at 8:00 a.m. with the climb starting at 8:46 a.m., the moment of first impact in 2001.
"We are so proud to organize this event each year in honor of the first responders who selflessly gave their lives that day," said Danny Ellis, president at FirstService Residential, the leader in residential property management. "At FirstService Residential, we are committed to supporting social causes and the communities where we live and work."
The National Fallen Firefighters 9/11 Memorial Stair Climbs are held across the country to honor and remember the 343 FDNY firefighters who made the ultimate sacrifice.
Realm Condominium is located at 3324 Peachtree Road NE, Atlanta, GA 30326.
To get involved as a participant, a volunteer, a sponsor, or a donor, please visit the
Georgia 9/11 Memorial Stair Climb 2023 page >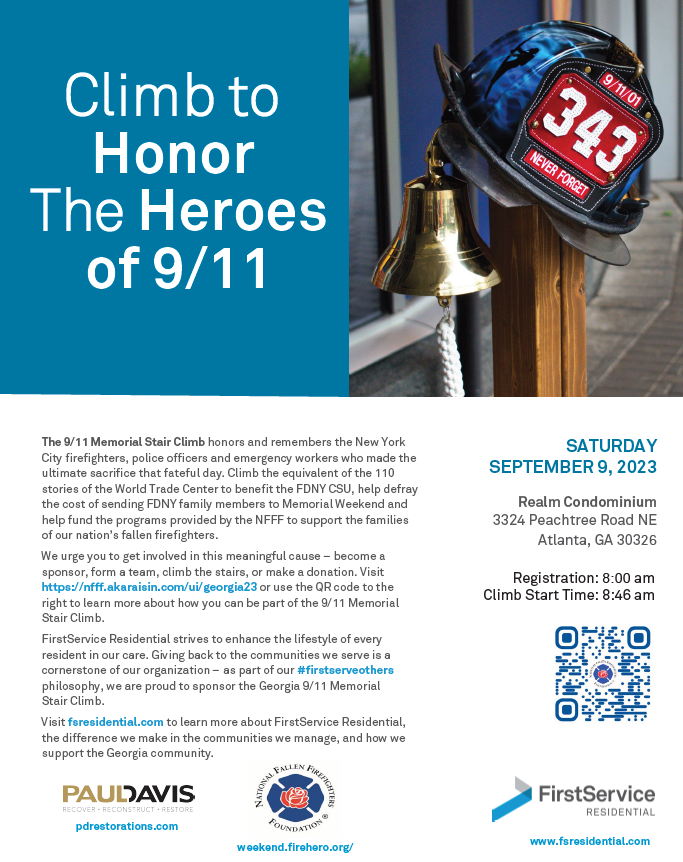 About FirstService Residential
FirstService Residential is simplifying property management. Its hospitality-minded teams serve residential communities across the United States and Canada. The organization partners with boards, owners, and developers to enhance the value of every property and the life of every resident.
Leveraging unique expertise and scale, FirstService serves its clients with proven solutions and a service-first philosophy. Residents can count on 24/7 customer care and tailored lifestyle programming, amenity activation, and technology for their community's specific needs. Market-leading programs with FirstService Financial and FirstService Energy deliver additional levels of support.
Boards and developers select FirstService Residential to realize their vision and drive positive change in the communities in their trusted care.
FirstService Residential is a subsidiary of FirstService Corporation (NASDAQ and TSX: FSV), a North American leader in providing essential property services to a wide range of residential and commercial clients.