The 5 Keys to Effective Board Communication
The quality of
board communication
will trickle down and impact the rest of your community and association, either positively or negatively.
High caliber communication
can elevate the quality of relationships with members and help create a more robust sense of community. Subpar communication, however, will often lead to tension and discord.
As North America's property management leader, FirstService Residential knows how essential communication is to a community, and how to cultivate it in healthy ways to make your community as vibrant as it can be. Follow these five principles to
boost communication
between and from your board association.
1. Be transparent
Lawsuits and litigation
have driven many boards toward excess caution when it comes to sharing information with residents, particularly around sensitive or tense topics. This runs counter to establishing a healthy, trusting relationship between the board and residents.
"It can often be interpreted as withholding information or a lack of transparency," Mike Dee, building manager with FirstService Residential, says of boards parceling out information hesitantly.
Even when sharing bad or unpopular news, Dee recommends an open and honest approach, one that includes explaining how and why your
board came to its decision
. "Don't be afraid to let them know how complex it is," he says.
2. Use a full range of delivery methods
Different residents prefer to receive communications from the board in different ways. Some still favor traditional approaches, like physical letters. But make sure your board is taking advantage of the
full array of technological options
available to communicate directly and instantaneously with residents.
Email:
Nearly every resident will have and use email
voraciously these days, making it one of the best communication tools at your disposal. In the building Dee manages, "all but three residents have email addresses. For those three, we print off the email and bring it to their unit."
Because of its speed, email is especially adroit at addressing immediate concerns, such as sending an alert during an emergency. "During a tornado warning, we sent an eBlast to all the residents as it was happening, reminding them of best practices," Dee says. "We received a lot of appreciation for that."
As for best practices, Edwin Lugo, vice president for the south Florida high-rise division at FirstService Residential, recommends sticking to one topic per email. Changing the subject line and sender will help residents parse through differing types of emails. "For example, lifestyle and entertainment might always come from your lifestyle director or social committee, but when an email comes from the property manager or the board president, residents will know it's regarding the administration of the community," Lugo says. "And perhaps for finances, it's a dedicated email from the board treasurer."
Website:
Each community should have a website
. They are straightforward to set up, but a property management company can help, particularly with establishing a secure portion of the website only accessible by residents. "Our public portion is very selective and controlled, and we require a resident login to access the private area," Dee says.
The range of options available in the private area differs by community.
FirstService Residential Connect
, exclusively available to properties managed by FirstService Residential, provides a customizable experience to each community. Residents can use it to manage accounts, pay bills, access documents 24/7, make reservations for amenities, submit service requests, and contact the property manager, board members, staff, or each other.
Newsletter:
A regular newsletter—think monthly—can help keep residents in the loop about activities and changes in the community. Keep it short and sweet, about four pages max. "Just don't make it all business," Lugo says. You can include pictures from recent events to liven it up, as well as an activity calendar, a letter from the board president, community highlights, and rule reminders.
Send out a PDF through email
to all residents and post on your website.
Phone:
Use this method judiciously, as residents can find it intrusive. But nothing beats the immediacy of a phone call, particularly in emergencies. An example of an urgent situation that would necessitate a phone call is if water damage may occur on a particular floor from an adjacent plumbing overflow. Phone calls should also be utilized when handling sensitive topics or confidential information. Sometimes a conversation can help ease a knotty situation that could be further convoluted or misconstrued in writing.
Text messaging
: SMS messaging is concise, sometimes to the detriment of conveying a full message. "We are not seeing text being used too much. In our buildings, residents have to sign up for it," Lugo says. FirstService Residential Connect allows residents to opt-in to receive text alerts if desired.
Social media:
Many brands and organizations use
social media
, particularly
Facebook
, to communicate with their users and audience. Some associations have joined the trend, but most boards approach the concept with hesitancy, according to Dee. This is for good reason. Negative comments or the open airing of disputes via social media can have an impact on the public perception of the property. Also, social media is not an effective method of communicating important information since residents may miss posts.
Flyers:
Don't dismiss the oldfangled way of doing things. They've stuck around for a reason. A notice pinned to the bulletin board or taped up in the elevator can attract a lot of eyeballs. "Sometimes, the old-fashioned techniques work just as well," Lugo says.
A more elegant approach to this method is an attractive flat screen with a scrolling message placed in a highly-traffic area like the lobby. "Associations know they have seconds to grab a resident's attention," Lugo says. These digital message boards can be expensive, so make sure your association can justify the initial financial outlay. But Dee points out that they contribute to a smarter, more professional ambiance. "These days, it's accepted and modern," he says.
Board meetings:
In many ways, board meetings are a communication channel as well. It's one that goes both ways. "It lets residents know you are available to hear their concerns," Lugo says. Institute an owners' forum prior to each board meeting, where residents can ask questions and bring forward issues. Dee suggests creating a board packet which can be distributed to all homeowners to help preempt the number of questions they may have.
Hold board meetings consistently, preferably monthly. Irregular meetings can spread doubt in the minds of residents about the board's commitment.
3. Communicate clearly and regularly
The adage "no news is good news" does not apply to board associations.
Regular and consistent communication
even during lulls will help maintain trust and prevent idle doubt from arising. "Silence breeds uncertainty, and that can foster rumors, so it's important to keep it flowing and keep it constant," Lugo says.
Maintaining steady communication can present a formidable task. Many boards prefer to create a communication committee and recruit the help of the property manager to relay messages to residents.
4. Be precise
Communicating regularly doesn't mean sending off information and data before it has been properly vetted. Always double-check any communications with the relevant party, the property manager, or your association lawyer to make sure it is factual and applicable. "Move towards greater communication, but make sure that what you're sharing is well thought through," Dee says. "Otherwise, you can leave your board at greater risk of exposure and liability. My grandma always said, 'Measure twice, and cut once.'"
5. Listen
Communication is a two-way street. Make sure residents are heard and that their opinions are valued. This doesn't only take place in owners' forums. Board members should carve out consistent time to hear residents. Dee's building holds "Coffee with a Board Member" gatherings, and Dee himself holds "Minute with the Manager" occasions as well, to make himself available to talk.
For board members, communication is an integral part of the job. Using these strategies can help pave the way toward a healthy communication relationship with your residents.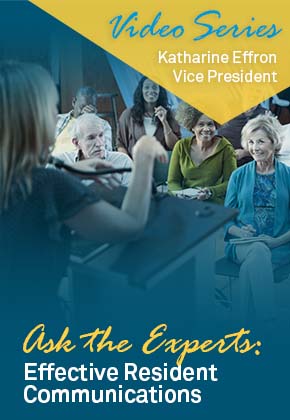 Watch the full video
Learn best practices to set your association on the path to clear, consistent resident communication. Download our Effective Resident Communications.
Watch now!