Five Things You Should Know About Community Management Certifications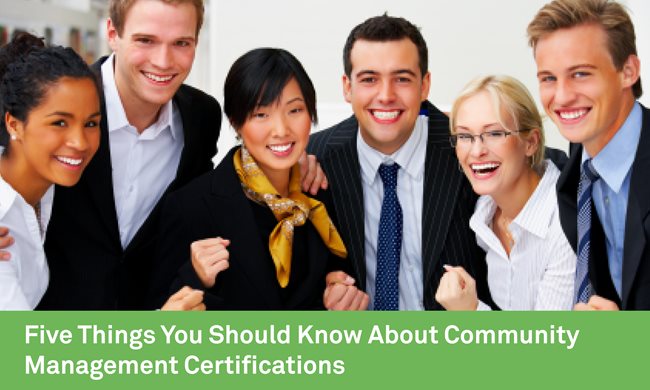 When it comes to community managers, there's a whole world of professional acronyms that can have a big impact on the quality of service Nevada HOAs receive. A small group of letters—like CMCA, AMS, or PCAM—can mean big things when it comes to a professional's area of expertise.
In this article, we'll take a look at why certifications matter, what some of them mean, and which certifications may be most important for your community.
Know what's required in Nevada.
Nevada doesn't require specific certifications for condo management, high-rise management, or management of large-scale communities. However, the state does require community managers to complete a certain number of educational hours and to take a written test to apply for a community manager certificate. Managers are also required to take a minimum number of continuing education credits to renew their certificate every two years. You can check on your manager's licensing status at the Nevada Real Estate Division by
searching their database
.
Expect excellence.
While extensive certifications beyond the minimum state licensing requirements aren't mandated by law, many common-interest communities find they benefit from the additional expertise professionals with enhanced certifications provide. Beyond that, HOA management professionals who have earned these distinctions are actually emblematic of greater companies as a whole. Firms with certified team members are demonstrating a commitment to ongoing education and training that ultimately benefits their clients.
Understand the various certifications.
Different certifications mean different things, and they are offered by diverse trade groups and professional organizations. For instance, the Community Associations Institute, or CAI, provides training that results in a tiered system of certification. These tiers begin with Certified Manager of Community Associations (CMCA), continue through the Association Management Specialist (AMS) designation, and then progress to the highest certification, Professional Community Association Manager (PCAM). CAI offers further certifications for specializations, such as Large Scale Manager (LSM).
Look for certifications that fit the needs of your community.
This may not guarantee that a specific community manager is right for you. However, it does indicate a manager's area of expertise and whether it dovetails with your needs. For example, large HOAs may want a professional with the LSM or PCAM designation from CAI.
Consider certifications for board members.
Here in Nevada, the state chapter of CAI offers certification for board members, too. The Designated Community Association Leader (or DCAL) certification is granted to board members who engage in additional training from the organization and adhere to a stringent code of ethics and conduct.
Your community will benefit from a management professional with the right certifications. By knowing the meaning of each designation and understanding which ones apply to your community, you can find a community manager who is the right fit. For more information about HOA management certification,
contact FirstService Residential.