Summertime Water Safety: Stay Safe While Keeping Cool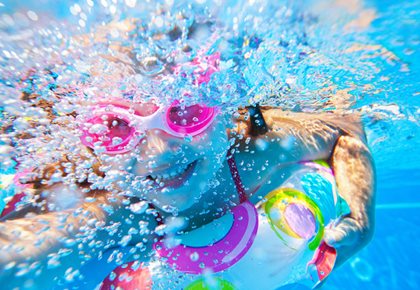 Florida is known for its water. According to the state
website
, Florida has the second longest coastline in the United States – almost 1,200 miles long! It has 11,000 miles of rivers, streams and waterways, plus almost 8,000 lakes that total more than 10 acres in size. That's a lot of water, and we haven't even talked about swimming pools yet.
All of that beautiful coastline and waterfront is a big draw to both residents and visitors. Boating, swimming, kayaking, canoeing, water skiing, snorkeling and scuba diving, paddle boarding, parasailing and fishing are popular water activities throughout the state, as are pool-based activities like water aerobics and diving. A swimming pool is one of the most sought-after amenities when people are looking to rent or buy a home in Florida, partially because a swimming pool can be enjoyed most of the year.
Even though we can swim all year in most of Florida, summer is still the peak time for water fun. Kids are out of school and adults are taking vacation. Even ordinary summer weekends invite more outdoor leisure than other times of year.
Unfortunately, a lovely day on the water or at the pool can take a bad turn in a hurry. Water safety is critical. Keep these safety tips and
guidelines
in mind to keep your community safe all summer long.
1. Communicate safety protocols.
Few communities have a lifeguard in the budget. "It's important to have a
policy
that all children under a certain age must be accompanied by an adult, preferably a parent or guardian," said Rick Dingle, vice president at FirstService Residential. "If you don't have a lifeguard, you must post signs indicating that there is no lifeguard and that all using the pool are swimming at their own risk and indicating basic safety rules such as no glass, no running, no diving, etcetera."
Your local pool supply store may stock those kinds of signs, and they are available through a variety of online retailers. Your professional property management company or pool maintenance vendor may also be able to buy and install them for you.
2. Protect the wildlife – and your residents.
If your community includes a lake or pond, no matter how large or small, make sure to post similar safety signs about the absence of a lifeguard and any applicable rules. Warn residents of the presence of wildlife like alligators, which are common in Florida. If your community lake is home to any protected species, including crocodiles, certain fish and some water birds, you may need to post special signs detailing federal guidelines about what kinds of activities are allowed there. Post your community rules about boating as well. Be clear about whether or not fishing is permitted and any permits or licenses required to do so.
"If you have a lake with wildlife in it or one that is connected to canals, it's a good idea to check with the
Florida Fish and Wildlife Conservation Commission
and the
U.S. Army Corp of Engineers
to make sure that your policies abide by all appropriate laws and regulations," Dingle said.
3. Save lives through education.
Basic CPR and first aid training save lives. Consider sponsoring community-wide classes in emergency response techniques and offer them to your management staff as well, if they haven't already been trained. Your local
Red Cross
and city or county emergency management officials may provide training, whether at your community or off-site. Again, your community association management company may be able to help schedule and facilitate a training program for your association.
4. Encourage residents to take swimming lessons.
Have you considered hosting swimming and water safety classes in your community's pool? This approach offers multiple advantages – the biggest being lives saved through better swimming skills. It's also a great way to help build community among residents. Be sure to check with your association attorney about potential liability issues and with your insurance agent about the proper coverage. If you bring in an outside vendor to conduct classes, thoroughly vet their insurance coverage as well.
If you don't want to have classes at your own pool, there are lots of great community resources that can help. Most
YMCAs
offer swimming and water safety classes. The
Red Cross
may host some at public pools. And your county or city parks and recreation department likely offers them as well, with a variety of fee structures and for a range of ages.
Miami-Dade County Parks and Recreation
, for example, has a robust Learn2Swim program with classes aimed at everyone from infants to adults. In Broward County, the Parks and Recreation Department offers seasonal
instruction for all ages
.
5. Keep up with maintenance.
The last thing you want during pool season is a malfunction or a breakdown. For tips to help you avoid those headaches – just look
here
. Make sure your safety equipment is in good working order, and watch those chemical levels to make sure they're adjusted for the season. Also, encourage residents to swim only when they're healthy – community pools can be a place for viruses to spread.
6. Follow the laws on fencing.
Most cities or counties will have very specific requirements for how far an enclosure is from the water's edge, how the entrance gate should function, and more. Make sure you're familiar with all of them and follow them carefully. Following these rules isn't just a matter of compliance – it's a matter of saving lives. Following them may also be a requirement for your insurance to pay any kind of claim, such as a slip and fall after hours. Check with your insurance agent to make sure you are meeting all of your policy's stipulations.
Water, whether it's a pool, lake, river or ocean, provides lots of opportunities for recreation and summertime fun. Making sure your community is as safe as possible will help keep the fun going into the fall.
For more information about how a professional property management company can help your community manage its pool and other waterfront spaces,
contact FirstService Residential
, Florida's leader in residential property management, today.