"Be Genuinely Helpful": Giving Back to Our Communities
Download Our Guide
Download Our Guide on Using Technology to Keep Your Community in Touch
COVID-19 has overwhelmed our world over the past 2 months. In one way or another, this pandemic has impacted our lives forever. But we can all find peace and comfort knowing that we are all in this together, and with the bad news, also comes the good. It's important to shine a positive light on the inspirational and heart-warming stories of this challenging situation.
'Tis the season of giving! Company-wide, we've seen an influx of stories from people getting involved and helping out in their communities. At FirstService Residential, we strive to "Be Genuinely Helpful" and "Do What's Right" in every aspect of our operations. Whether it's assisting a colleague with a project, or volunteering to help out in our local communities, our associates and board members will go above and beyond in all that they do.
As North America's property management leader, we understand the importance of giving back to our communities, now more than ever. During the COVID-19 outbreak, there's been a massive shortage of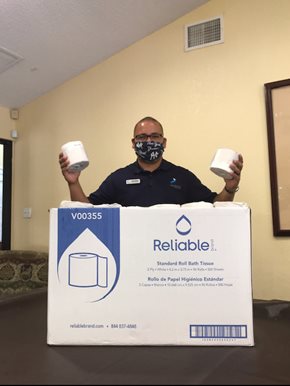 essential products and toiletries. At FirstService Residential, we've demonstrated what it means to help our communities, families in need and frontline workers who've risked their lives to help keep us safe and healthy during this time.
The stories below were submitted by FirstService Residential associates. These stories are a true testament to our Social Purpose, #FirstServeOthers.
An Essential Delivery
Juan Tirado, Property Manager in Plantation, Florida, went on the hunt for a much-desired toiletry item. He wanted to assist his community during this tough time by providing something simple yet essential. Juan sourced a box of toilet paper with 96 rolls inside for the property. With the approval of the board of directors, he was able to distribute the toilet paper rolls to over 42 residents in their community. Juan explains this experience as gratifying, and there is nothing more fulfilling than being able to help his residents.
Giving Back
Laura Goguet, a community association manager in Fairfax, Virginia, has partnered with Prince William Food Rescue to help serve the communities in the area. She not only gives back to the community she is a part of, but she also gives support to the surrounding communities FirstService Residentials manages in Prince William County.
Through Prince William Food Rescue, she sources families in need of food delivery or grocery delivery via their app or website. Laura then goes to the grocery store, buys the food, and then delivers it to the family in need.
"I have a mantra: if you have the ability to help others, then you should. It's all about being generous with your time, kindness, or even money to help those in need during the coronavirus pandemic. Even without this crazy time we are living in, we all should give up to help others. You never know who you are influencing or molding with what you give," says Goguet.
She believes that by taking part in food delivery and grocery delivery services, she's doing something minimal yet meaningful. She says that she is blessed that she can give some of what she has to others.
"Today, by the grace of God, I am in a position to help, and I try to do it whenever I can, however during these particular times, I have one way that I can help in the county I live in, and it is easy," says Goguet.
Sharing is Caring
The Lakes of the Meadow Master Association team located in Miami has dedicated their time and efforts to packaging and distributing care packages to those in need. In doing so, they hope to bring joy and happiness to those around them during the COVID-19 pandemic.
"As the world continues to battle this pandemic, we strive to keep our hopes up and to continue serving our community. Our goal is to do anything within our power to help District 11, in hopes of giving back to the community that supports us," said Daniela Papetti, community Manager at The Lakes of the Meadow Master Association.
Food for Thought
The Lake Barrington Shores Community hosted a drive-through food drive on Wednesday, May 6.
The community contributed $2,500 to the nearby Cuba Township Food Pantry and sent three trucks of food and supplies their way.
Watch this short video, highlighting the generosity of the residents at Lake Barrington Shores in Illinois!
A Little Goes A Long Way
A grand gesture of gratitude was exhibited by a maintenance supervisor at Mirage on the Ocean Condominium in Surfside, Florida, near Miami. This maintenance supervisor bought each of his colleagues a heartfelt card and gift card to Burger King and Taco Bell. He then called each co-worker one by one to personally thank them for the hard work and unwavering commitment, especially during COVID-19. He believed they deserved to be recognized and wanted to offer others support and a warm meal.
"It was a very special moment to see the associates' happy faces because of one simple gesture of kindness! I am very proud of my team and delighted to share this story of appreciation. Simple acts can make the difference in our day-by-day activities," says Lourdes Dupieron, community association manager at Mirage Community Association, Inc.
Acts of Kindness
Kudos to Justin Hutchinson and Filipe Santos for lending a helping hand to an at-risk resident at LUMINA in San Francisco, California, Imin Lee, throughout the entire quarantine. There's nothing more rewarding than seeing our property managers, "Do What's Right."
Lee said the lobby personnel, property managers, and volunteers were a great help during this time. Not only have they been accommodating to his needs, but they've also helped deliver his packages and groceries straight to his door.
"As one belonging to the high-risk group, I have been hunkering down in my apartment, trying not to venture out unless necessary. During this time, you, the HOA, and the lobby D personnel are extremely accommodating, which makes my self-isolation possible," said Lee.
The HOA matched Lee up with volunteers, Andrew and Cindy, to assist him with grocery shopping, as well as running other essential errands. Lee expresses his gratitude to everyone that's helped him stay healthy and safe during isolation!
Stay tuned for more heartwarming stories of how associates, board members and residents are taking action to support the people in their lives and communities. We are truly stronger together.